Amish Custom Cabinets in Lancaster County, PA
Custom Cabinets for Designers
Looking for a cabinet maker that can meet exacting clients needs?
Look no further than custom cabinetry by Misty Mountain Cabinetry. Our experienced team has been working with discerning kitchen designers, contractors, and home-builders like you to build the perfect kitchen cabinet solutions for your clients for over 40 years.
We make high-quality kitchen cabinets that are both stylish and functional, and our cabinets are designed to meet the strict needs of designers and contractors alike. Everything is custom, and we're familiar with building to stringent and unique specifications.
We offer an unlimited variety of exceptional cabinet styles, materials, and finishes, so you can find the perfect look for your customers' kitchens, bathrooms, and more. And, our cabinets are built to last, with 3/4-inch and 1/2-inch plywood and solid wood construction, ensuring that your clients' home will look incredible for years to come.
Expert Amish Custom Cabinet Makers in Lancaster
An incredible room begins with incredible design.
When it comes to kitchen cabinets, there's simply no substitute for custom cabinetry. At Misty Mountain Cabinetry, we understand that kitchen designers and contractors need cabinets that are functional, beautiful, and that can meet your unique and exacting design specifications.
We specialize in custom woodwork and cabinet builds based on your designs and vision, and we're familiar with atypical builds. From expertly crafted cabinetry to luxurious open shelving, we've been creating beautiful woodwork solutions for kitchen and home designers for over 4 decades.
We also know that your clients' homes are a reflection of their taste and style, which is why we offer and can create a wide variety of cabinet styles and finishes. Whether your customer is looking for modern kitchen cabinets or more traditional cabinetry, we can craft the perfect solution.
Why Custom Cabinets from Misty Mountain Cabinetry?
Selecting the right cabinet manufacturer for your business or shop doesn't have to be a nightmare.
You want the personal and hands-on design approach of working with a small business, with the deep expertise and resources of dedicated craftspeople.
Misty Mountain Cabinetry's custom-designed cabinets and kitchens are an ideal solution for your design and planning team.
High-quality, stylish, and functional cabinets manufactured by our local Amish Craftsmen.
A wide variety of cabinet designs, fronts, materials, hardware, and finishes – you name it, we can build it
Professional team with decades of experience helping kitchen designers and contractors.
Customizable solutions for any kitchen or bathroom design challenge.
Bespoke kitchen islands, vanities, pantries, kitchen cabinetry, and more.
All work is 100% guaranteed, with a lifetime warranty on build and construction.
Misty Mountain Cabinetry provides custom cabinetry that designers and contractors trust for a reason: top-notch, exceptional quality, and functional cabinets that are built to last.
Exceptional Cabinets, Done Right
Work with a team that can bring your cabinetry vision to reality with custom cabinets from Misty Mountain Cabinetry.
If you're looking for someone to execute on your kitchen and custom cabinet designs, call us today or stop by our Lancaster County showroom in Paradise, PA! We'll be happy to help you build the perfect woodwork and cabinetry for your clients' space.
Take A Look At our custom cabinetry design process!
Watch this video or continue reading to learn more about our 6-step guide for homeowners.
Custom cabinets are a great way to create functional and stylish storage solutions for your home. The design process for custom cabinets at Misty Mountain Cabinetry is broken down into several stages, from initial consultation to final installation. Understanding the steps involved in the custom cabinet design process can help you get the most out of your investment and ensure that your cabinets are exactly what you need.
Step 1: Initial Consultation
The first step in the custom cabinet design process is an initial consultation with our cabinet designer. During this meeting, you will discuss your needs and requirements for your cabinets, such as size, style, and finish. You will also discuss your budget and timeline for the project. This initial consultation is a great opportunity to ask any questions you may have.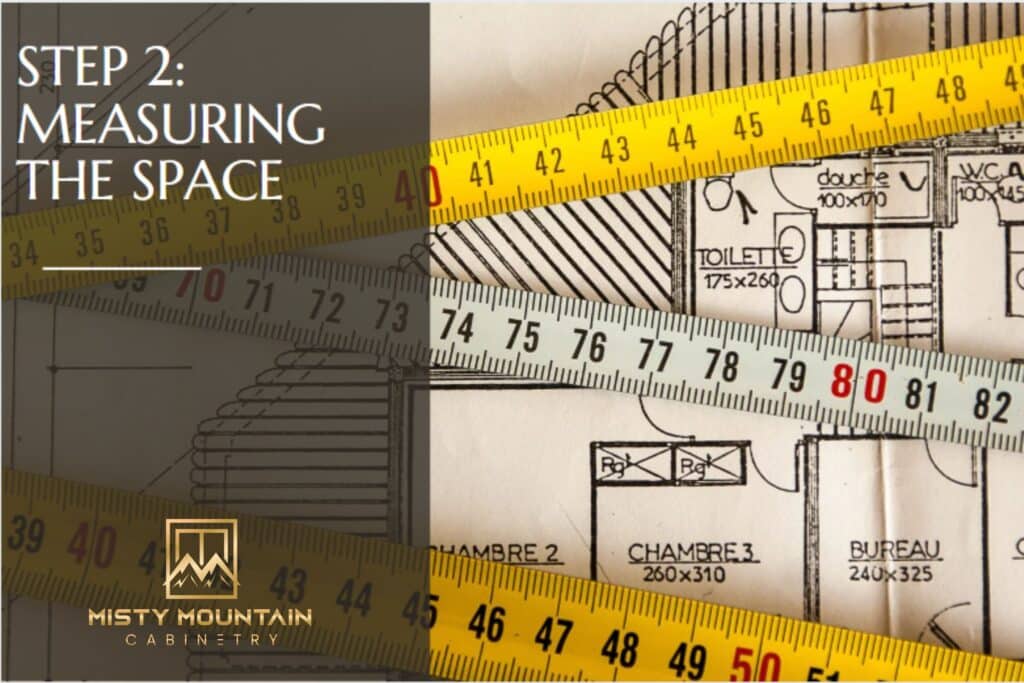 Step 2: Measuring the Space
Once you have decided to contract with Misty Mountain Cabinetry, we will visit your home to measure the space where your cabinets will be installed. This step is crucial, as it will determine the size and configuration of your cabinets. It is important to ensure that the measurements are accurate, as even small errors can have a big impact on the final product.
Step 3: Design and Planning
With the measurements taken, the designer  will begin the design process for your custom cabinets. This involves creating detailed drawings and renderings that show the size, style, and finish of your cabinets. During this stage, you will be able to make any changes or revisions to the design, ensuring that your cabinets meet your exact specifications.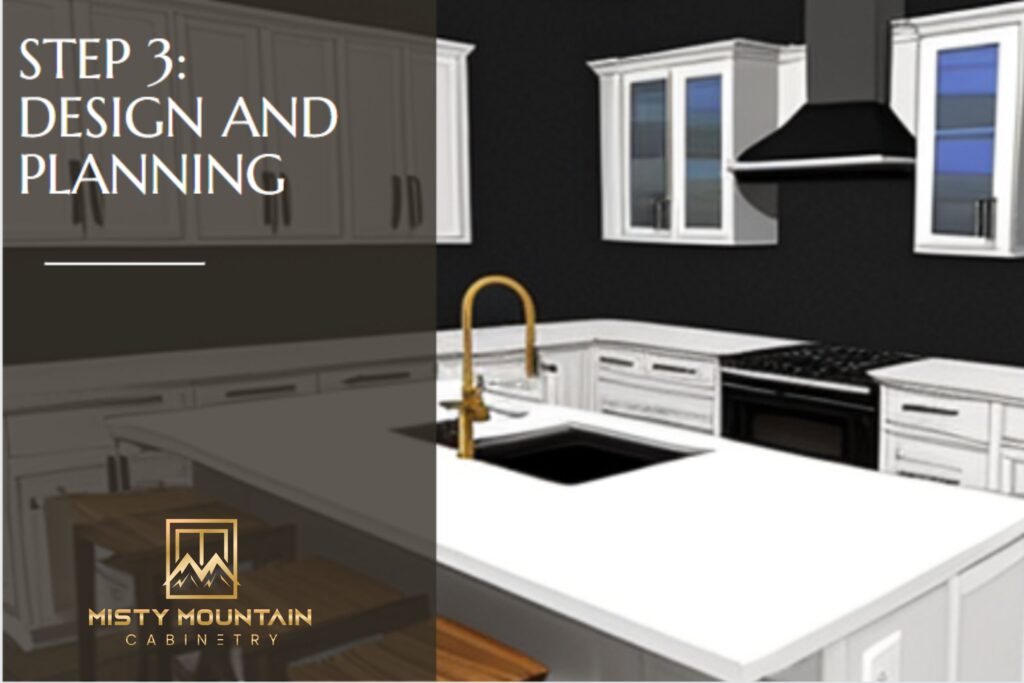 Step 4: Material Selection
Once the design is finalized, the next step is to choose the materials for your cabinets. This may include selecting the type of wood, the finish, and any hardware or accessories. Your designer will be able to help you choose the best materials for your cabinets based on your needs and budget.
Step 5: Manufacturing and Delivery
With the design and materials selected, your custom cabinets will be manufactured and delivered to your home. This process can take several weeks, so it is important to plan ahead and allow for plenty of lead time.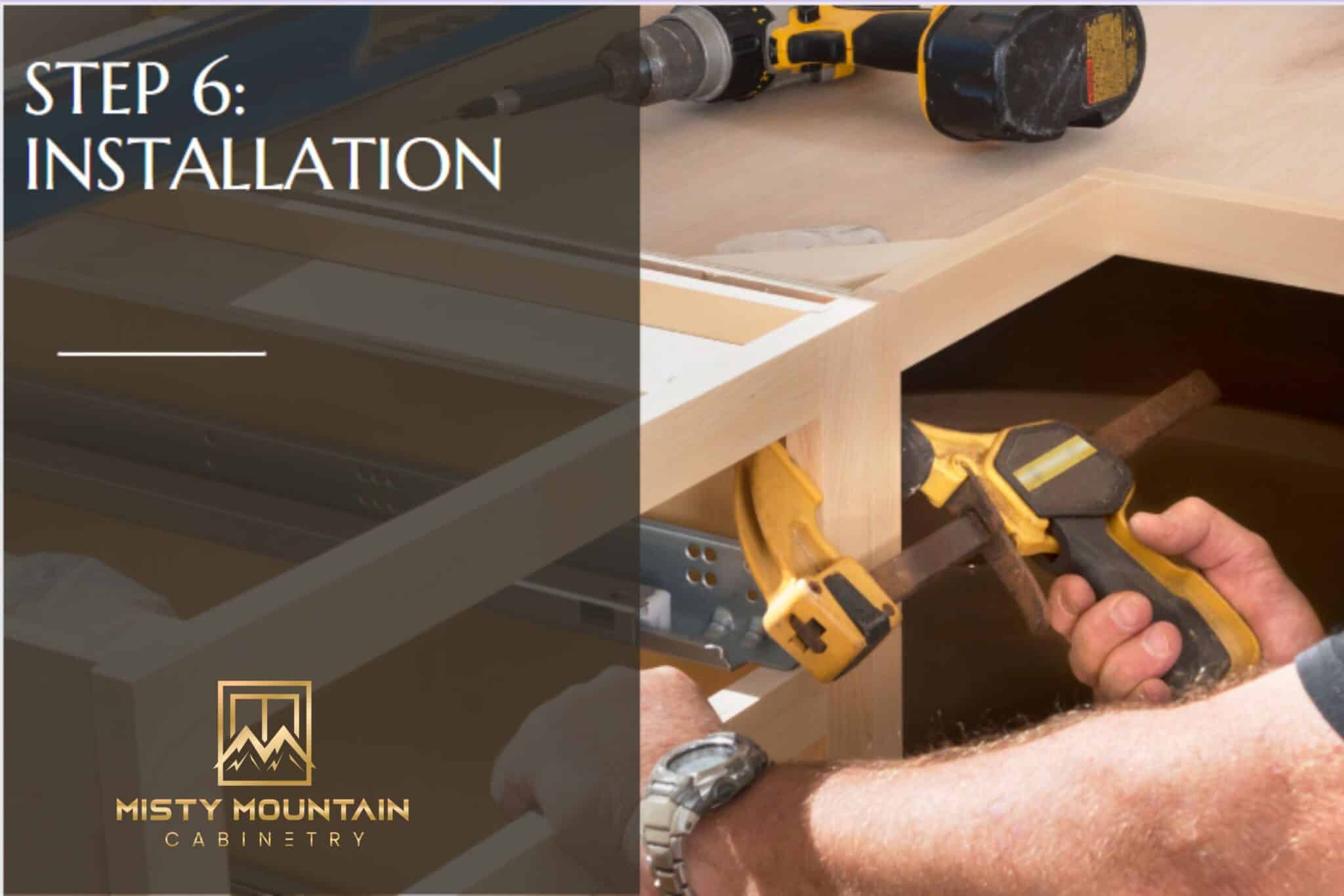 Step 6: Installation
Finally, your custom cabinets will be installed by a professional. This is a crucial step in the process, as proper installation is key to ensuring that your cabinets last for many years. Your designer or contractor will oversee the installation, making sure that everything is done to their exact specifications.
In conclusion, the custom cabinet design process is a complex and detailed one that requires careful planning and consideration. However, with Misty Mountain Cabinetry, the end result will be a beautiful and functional storage solution that fits your needs and enhances the value of your home. By following this step-by-step guide, you can ensure that your custom cabinet project is a success.