We are excited to announce that Misty Mountain Cabinetry is now offering 0% financing to our valued customers!
We understand that home renovations and remodeling projects can be costly, and we want to make sure that our customers have access to the best financing options available.
With 0% financing, you can finally get the custom cabinetry you've been dreaming of without worrying about high interest rates or hidden fees. In two minutes or less, with zero effect on your credit and no obligation to the borrower, you can see your monthly payment options. This financing option allows you to spread out the cost of your purchase over time without any additional cost, making it easier for you to invest in the home of your dreams.

Our 0% financing program is designed to be flexible and easy to understand. We offer a variety of payment plans to fit your budget, with terms ranging from 6 to 24 months. No matter what your financial situation is, we are committed to finding a financing plan that works for you.

In addition to our financing options, we also offer free initial consultations to help you bring your vision to life. Our team of experienced designers will work with you to create custom cabinetry that perfectly fits your style and functional needs.

At Misty Mountain Cabinetry, we are committed to providing our customers with the best possible experience. Whether you're renovating your kitchen, bathroom, or any other part of your home, we are here to help you every step of the way. From design to installation, we are dedicated to making your renovation project as smooth and stress-free as possible.

If you're interested in our 0% financing program, or if you have any questions about our services, please don't hesitate to contact us. We would be happy to speak with you and help you get started on your home renovation project today.
Take A Look At our custom cabinetry design process!
Watch this video or continue reading to learn more about our 6-step guide for homeowners.
Custom cabinets are a great way to create functional and stylish storage solutions for your home. The design process for custom cabinets at Misty Mountain Cabinetry is broken down into several stages, from initial consultation to final installation. Understanding the steps involved in the custom cabinet design process can help you get the most out of your investment and ensure that your cabinets are exactly what you need.
Step 1: Initial Consultation
The first step in the custom cabinet design process is an initial consultation with our cabinet designer. During this meeting, you will discuss your needs and requirements for your cabinets, such as size, style, and finish. You will also discuss your budget and timeline for the project. This initial consultation is a great opportunity to ask any questions you may have.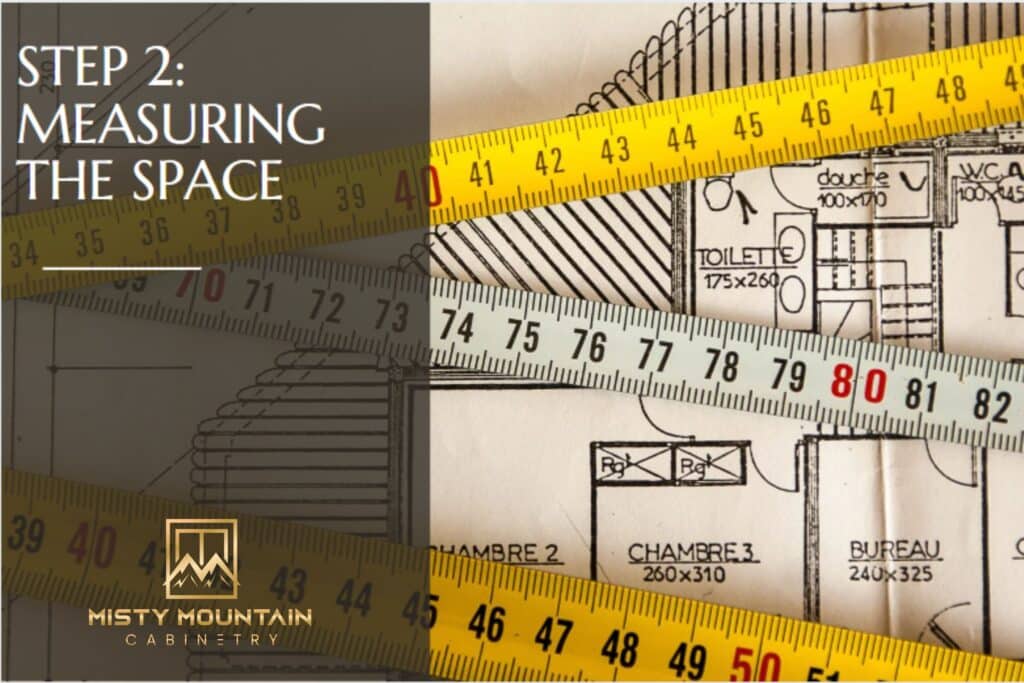 Step 2: Measuring the Space
Once you have decided to contract with Misty Mountain Cabinetry, we will visit your home to measure the space where your cabinets will be installed. This step is crucial, as it will determine the size and configuration of your cabinets. It is important to ensure that the measurements are accurate, as even small errors can have a big impact on the final product.
Step 3: Design and Planning
With the measurements taken, the designer  will begin the design process for your custom cabinets. This involves creating detailed drawings and renderings that show the size, style, and finish of your cabinets. During this stage, you will be able to make any changes or revisions to the design, ensuring that your cabinets meet your exact specifications.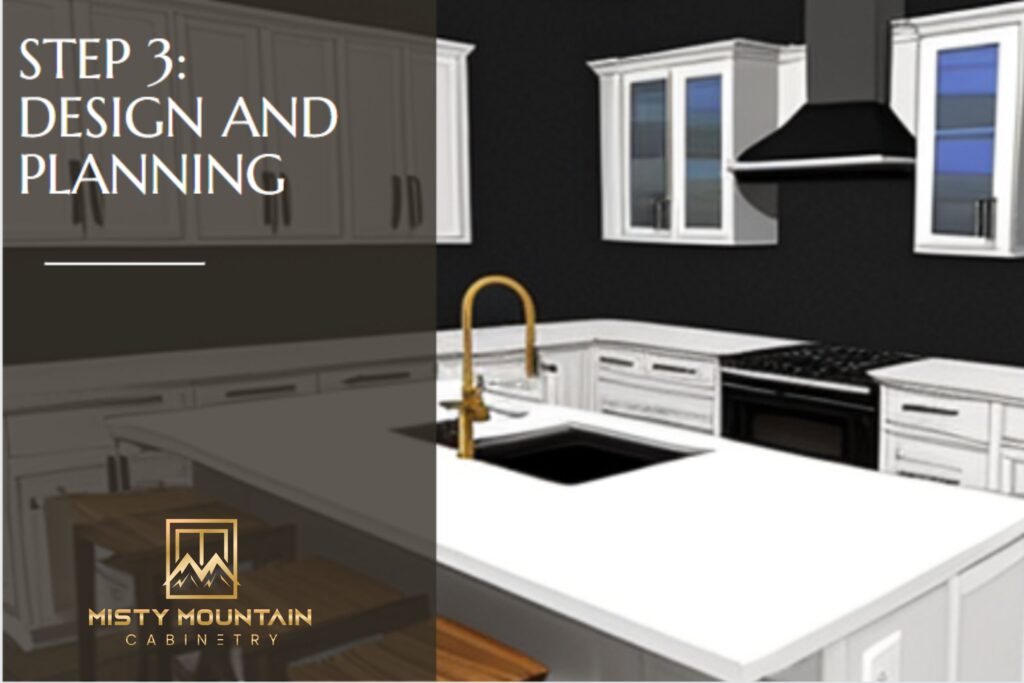 Step 4: Material Selection
Once the design is finalized, the next step is to choose the materials for your cabinets. This may include selecting the type of wood, the finish, and any hardware or accessories. Your designer will be able to help you choose the best materials for your cabinets based on your needs and budget.
Step 5: Manufacturing and Delivery
With the design and materials selected, your custom cabinets will be manufactured and delivered to your home. This process can take several weeks, so it is important to plan ahead and allow for plenty of lead time.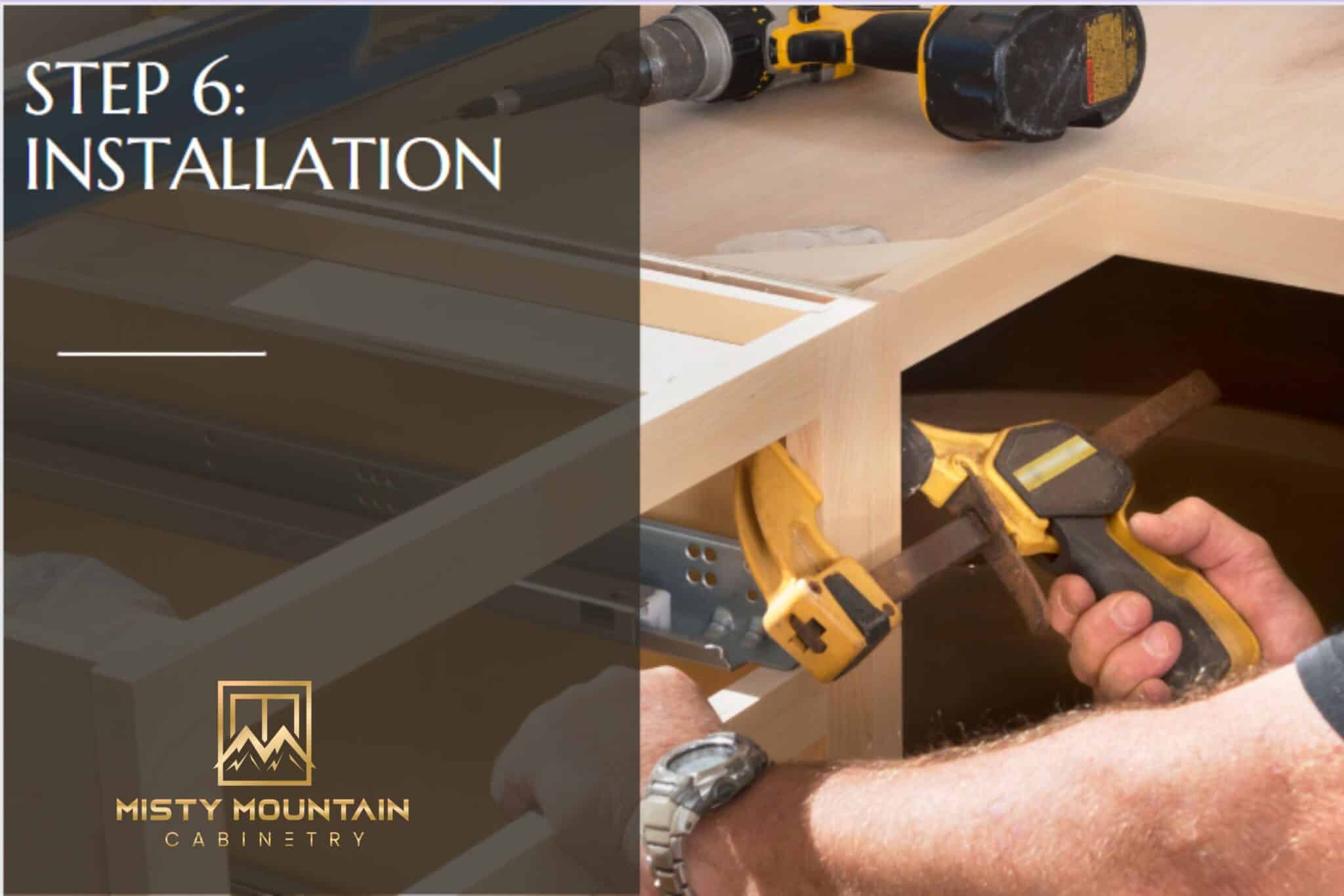 Step 6: Installation
Finally, your custom cabinets will be installed by a professional. This is a crucial step in the process, as proper installation is key to ensuring that your cabinets last for many years. Your designer or contractor will oversee the installation, making sure that everything is done to their exact specifications.
In conclusion, the custom cabinet design process is a complex and detailed one that requires careful planning and consideration. However, with Misty Mountain Cabinetry, the end result will be a beautiful and functional storage solution that fits your needs and enhances the value of your home. By following this step-by-step guide, you can ensure that your custom cabinet project is a success.