The Top 7 Amish Woodworking Products
What special ingredient lies behind the Amish people's special ability to craft exquisite furniture?
At Misty Mountain Cabinetry, we employee master Amish craftsman and we want to give you a peak into what makes them and their work unique. 
After that, we will explore 7 of the most popular and sought-after products that Amish artisans create. Honestly, any one of these products is guaranteed to elevate your home to new levels — we're talking durable, beautiful, hand-crafted pieces that you can pass down for generations. 
As a bonus, we will look at the 2 main styles of Amish furniture you could use in your home. Who knows, maybe today is the day you finally find your style! 
Let's get started! 
What Makes Amish Woodworking Unique?
What is different about Amish woodworking? 
To understand the answer, we have to take a brief spin through history: 
History of Amish woodworking 
In 1693, a group of Anabaptists led by Jacob Amman split from another Anabaptist group called the Mennonites, forming the Amish.
This group wanted to live a simple, practical, and self-sufficient lifestyle that was devoted to God and free from worldly distractions. The Mennonites shared these goals but weren't as radical about them as the Amish, which led to the split in 1693.
In the early 1700s, the Amish began migrating to America to avoid religious persecution. They mainly settled in Pennsylvania, Ohio, and Indiana, which remain the center of the Amish communities in America today. 
The Amish desire for simplicity and self-sufficiency permeated their entire lives and came out in their plain dress, rural lifestyle, and rejection of technological advancements. They practiced a simple farming lifestyle and relied on their own handicraft for clothes, furniture, and other commodities. 
They placed a high value on community and tradition and involved their youth in community work at a young age. For these reasons, most Amish communities still only educate their children through 8th grade and then begin teaching them a trade – such as woodworking. 
Looking at their history, we can see that the Amish are master artisans for two primary reasons: 
Their lifestyle requires them to rely on their own handicraft which means they get lots of practice working with their hands. 
They emphasize hands-on work over education. Because they start so young, they are often very good at what they do. 
The Amish have always made high-quality woodworking products of all sorts. But Amish furniture, in particular, began to gain popularity with the outside world in the 1920s and 30s. Since then, its popularity has only increased. 
What does Amish woodworking emphasize?
The Amish's woodworking products reflect their values of simplicity and practicality. Amish woodworking emphasizes: 
1.Quality 
The Amish take a personal approach to every kitchen, mantel, or piece of furniture that they make. They carefully choose the wood for each project and craft everything by hand, emphasizing quality so that the product is long-lasting. 
2.Simplicity/Practicality  
Amish woodworking products can be intricate and modern. However, the baseline emphasis is on a simple, family-oriented lifestyle. They make their products practical and useful on a daily basis. 
3.Longevity 
The Amish build their products to last. A piece of Amish furniture will often be passed down through several generations as an heirloom. 
How do the Amish make their products? 
The Amish aren't your typical carpenters. Just as they take a different approach to life, they also take a different approach to their art. Here are some of the ways that they are different in the way they make their products. 
Amish woodworking products are:  
1.Handcrafted 
As previously stated, the Amish take a personalized approach to all of their projects. Everything is handcrafted with care and attention to detail. The products are usually hand-finished as well.  
2.Solid wood
Amish craftsmen work with solid wood, not wood substitutes. This means that their products will be tough and sturdy enough to stand the test of time. The solid wood also lends that trademark natural beauty to Amish-made products.  
3.Made without power tools 
As a culture, the Amish reject modern conveniences like electricity and prefer to live off-grid.
This means that they can't use power tools. They often use hand tools like chisels, hand planes, and hand saws, and also commonly use pneumatic tools, which are powered by diesel fuel and run on compressed air. 
You might find pneumatic tools like miter saws, sanders, and buffers in an Amish carpentry shop. 
Also, Amish furniture craftsmen tend to forego regular fasteners like screws and nails and opt for techniques like dovetail joints, rabbets, and mortise-and-tenon joinery. When they are reinforced with glue, these joints are often more durable than regular fasteners.  
4.Customizable 
Because they are handcrafted, Amish products like furniture and cabinets are usually completely customizable. You can pick out the type of wood and stain and can often create your own unique design for your product. 
5.Sustainable 
The Amish have been living green since the culture's birth. They make their products responsibly and leave incredibly small carbon footprints:
The Amish harvest their wood selectively and sustainably. No clear-cutting! 
Amish products are American-made, so no fossil fuels are burned to ship them overseas.
The products are hand-made, not manufactured in factories that use up lots of energy.
Because each product is made on an individual basis and not mass-produced, there's no need for big storage facilities with controlled environments. 
The products are long-lasting. You won't need to throw your Amish-made chairs in a landfill and replace them every several years. 
The Amish make their products without a lot of nasty chemicals – so you won't have to worry about exposing your family to these chemicals.  
Now that's sustainable!  
You can see that the Amish take a different approach to woodworking, just as they take a different approach to life. There is beauty in their simple, community-oriented lifestyle, just as there is beauty in their handicrafts. 
Now that we know what sets Amish woodworkers apart from the crowd, let's take a look at 7 of the most popular Amish woodworking products made by these artisans.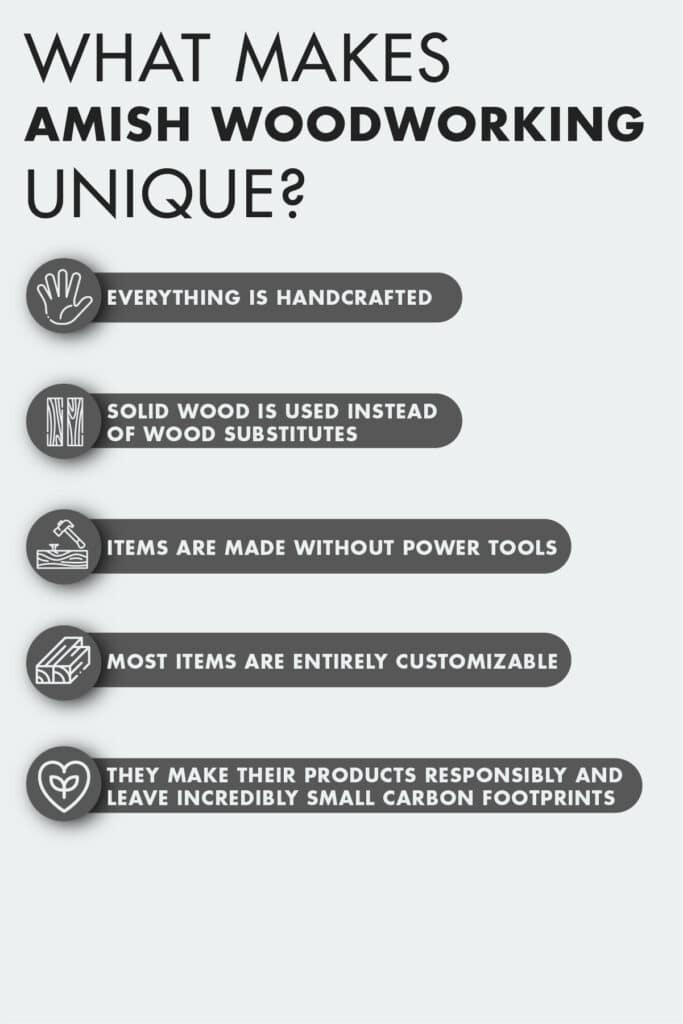 7 Popular Amish Woodworking Products
Do you think you would like to incorporate some high-quality Amish woodworking into your home? 
Here are a few Amish products that stand out from the crowd.
Give one of them a try! 
1. Kitchens
 Are you tired of your outdated, inefficient kitchen? 
Employ some old-world craftsmanship and get high-quality, made-to-order cabinets and countertops! The Amish will build you a beautiful kitchen that lasts and serves you well.  
Not all Amish companies use solid hardwood for their kitchens, but it will be easy to find one that does if that is what you want. Pricing will vary depending on the company. 
And If you would like to replace your cabinets, or if you are building a new kitchen, read our blog: Ready for New Kitchen Cabinets? Read This First.  
2. Custom Cabinetry
Cabinets aren't just for kitchens. They go in bathrooms, mudrooms, and storage areas too. Or you might need a display cabinet or a china cabinet. 
Wherever you happen to need cabinets, you'll be able to find some Amish carpenters who have you covered! You can rest assured that your cabinets will be sturdy, high-quality, and completely customizable. 
3. Countertops 
Is your countertop dinged up, or warping, or just plain ugly? Check out these gorgeous, Amish-made, solid wood countertops!
Why buy a wood countertop? 
They are only a little more expensive than laminate (and way cooler) and much cheaper than natural stone or engineered materials.  

They are quiet. They don't make a loud clatter when you set dishes on them. 

They are warm to the touch and don't hold the cold like stone or metal. 

They are easy on your knives. Butcher block counters are made specifically for cutting on.

If they get scratched or burned, they can be sanded down and refinished. 
 Plus, they look amazing! 
4. Furniture
This one should have been first on the list. Amish furniture is wildly popular!  
Why? 
You guessed it! 
It's handcrafted.

It's eco-friendly

It's made of solid wood.

It's customizable. 

It lasts forever.

It's beautiful!
You can get all kinds of Amish furniture, everything from bedsteads to bookshelves to custom entertainment centers. Whatever it is, it will be high-quality and beautiful!
As a bonus, at the end of this article, we will look at the two main styles of Amish-made furniture that you can buy. Stay tuned!  
5. Toys 
The Amish have a strong work ethic, but they play hard too! 
Amish-made wooden toys are a great buy. Wooden toys are a great choice because:
They are durable and high-quality.

They are more eco-friendly than plastic.

Wood has some antibacterial properties. It is said that bacteria and germs collect more easily on plastic than on wood. 
If that's not enough, wooden toys just look cool and retro. 
6. Fireplaces and Mantels 
Need a little coziness in your living room? The Amish make beautiful hardwood mantels and fireplaces!  
A solid-looking, hardwood fireplace will anchor your living room and provide a focal point and gathering place for your friends and family. And it will make winter so much more fun!   
A mantel also provides a space to decorate. It'll be an opportunity for you to express your own unique style!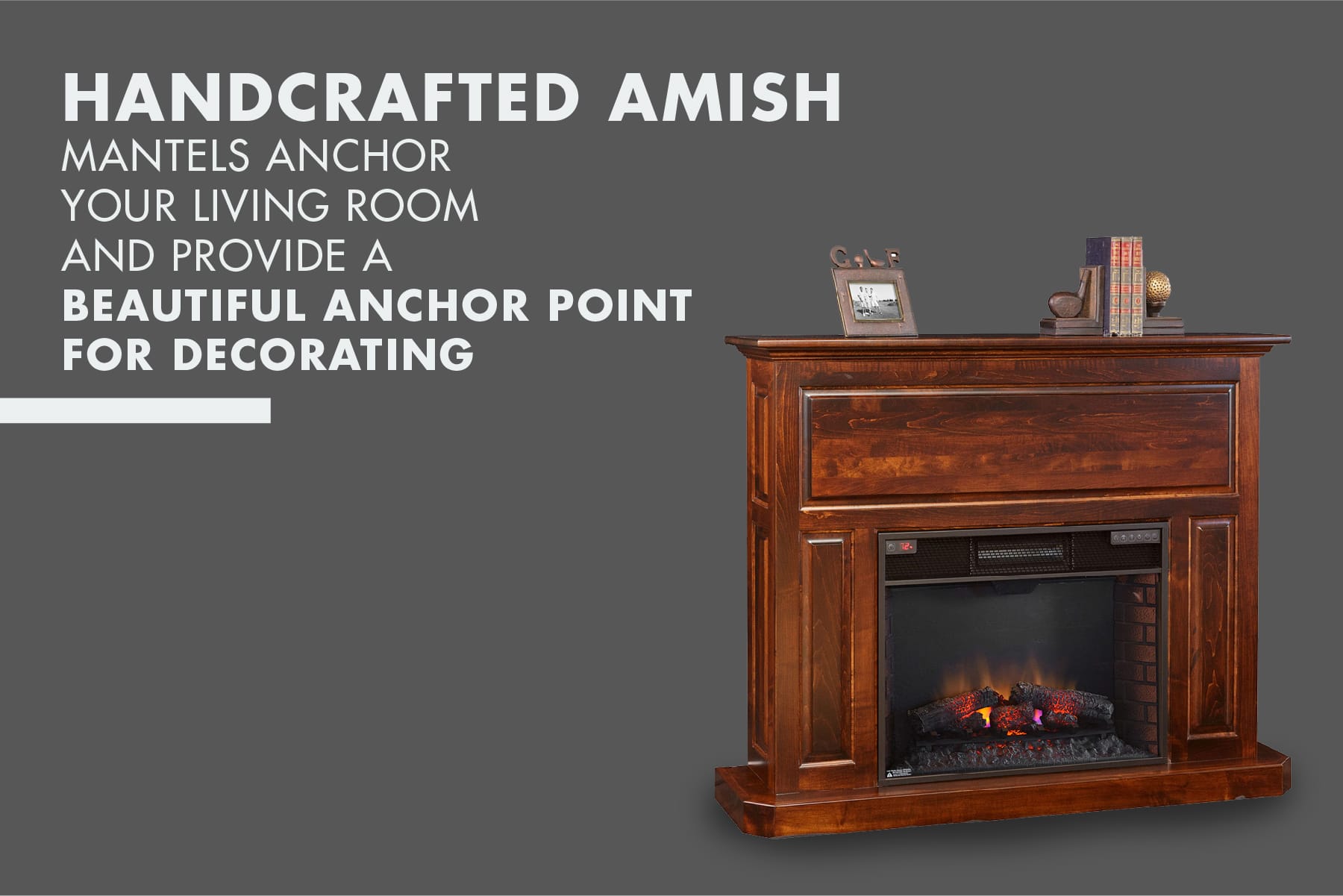 7. Sheds 
If you need some extra storage, a playhouse, a studio, or a place to put your gardening equipment, look into an Amish-made shed or mini-barn. 
It will be easy to find a company that will help you design and build the perfect shed.
Amish woodworking has been in style since the 1920s, and it isn't likely to go out of style anytime soon. From cabinets and countertops to furniture and fireplaces, there's an Amish craftsman out there who can help you with whatever you need.  
Now for the bonus! 
Let's take a look at the 2 main styles of Amish furniture that you can buy.
2 Styles Of Amish Furniture
The Amish craft their furniture in two primary styles: Mission Style and Shaker Style.
Let's explore these two styles and see which is the best fit for you! 
Mission Style 
Mission style furniture grew popular due to the Arts and Crafts movement of the 19th and 20th centuries, which was a reaction against industrialization and the neglect of the decorative arts. 
The Mission style combined elements of Spanish architecture and Native American design. It made little use of decorative details, focusing more on showing off quality craftsmanship and natural beauty. 
Mission style furniture utilizes straight lines, 90-degree angles, and rectangular shapes to keep it simple and bring out the wood's natural grain. The style's color palette mainly includes earth tones. 
Sounds kind of like Amish ideals, right? Simple, high-quality, with a natural look. 
Mission style furniture lends a plain, solid, yet graceful air to a room. You will often find Amish furniture in the Mission style. 

Shaker Style 
Shaker-style furniture is fairly similar to Mission-style furniture. 
The Shaker style comes from a religious group called the Shaking Quakers. The Quakers were similar to the Amish in that they wanted to live a simple lifestyle that was separated from the world and devoted to God. Shaker style furniture reflects these goals. 
Similar to the Mission style, the Shaker style uses straight lines and minimalistic designs. It is even more minimal and practical than the Mission style.
Shaker furniture usually has tapered legs, simple wooden knobs, and clean lines. It looks more slender and airy than Mission style furniture, which is sometimes referred to as "chunky," or "solid." Shaker furniture is very graceful and sophisticated in its simplicity and lends an air of elegance to a room. 
It makes sense that Amish furniture would mainly come in these two simple, practical, yet sophisticated styles, doesn't it? They reflect Amish ideals. 
But these are not the only styles that Amish furniture comes in. Here are a few others that you might find in Amish furniture shops: 
Rustic 

Coastal 

Mid-century 

Farmhouse

And even Queen Anne
At the end of the day, Amish furniture is about simplicity, functionality, durability, and natural beauty – just like all good Amish woodworking.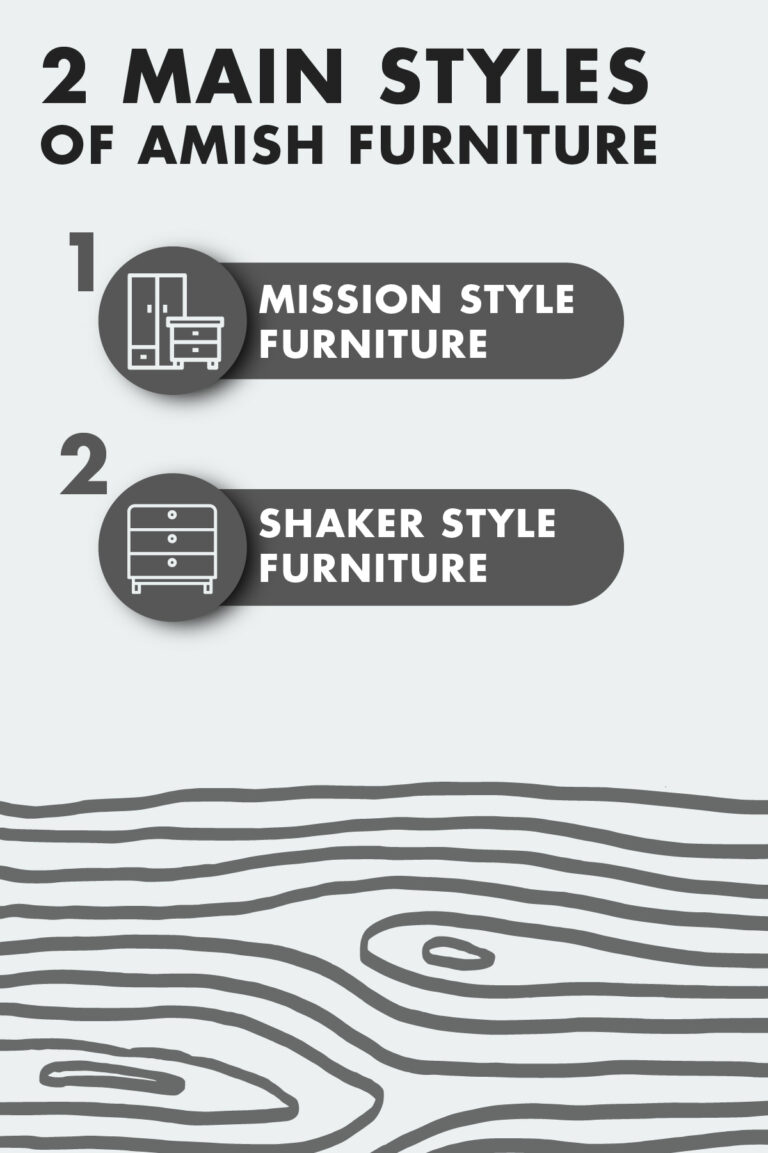 Now you know a little bit more about Amish woodworking – what it is, what sets it apart, and what types of products are associated with it. 
And next time you need some quality woodworking done, look into finding an Amish furniture or cabinet shop nearby!
Are you ready to revamp your kitchen, bathroom, or storage area right now? 
Contact us here at Misty Mountain Cabinetry! 
We will do our best to make it easy to work with us. All you have to do is:
Schedule an estimate

Customize your kitchen

Sit back and let us install it for you! We'll be as speedy as we can so you can get your home back to normal and start cooking in your new kitchen. 
We can't wait to hear from you!