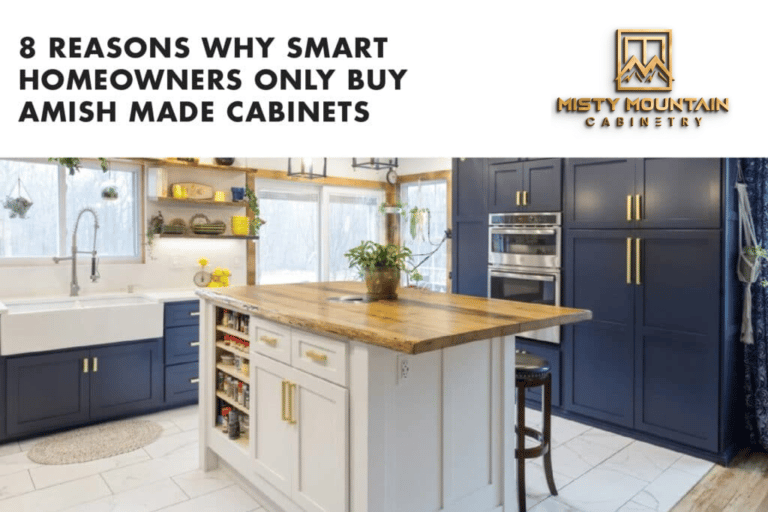 8 Reasons Why Smart Homeowners Only Buy Amish-Made Cabinets
If you are thinking of installing new kitchen cabinets, you want to make sure you install a quality product that will last and serve you well. 
We understand! A new kitchen is a significant investment and you want your investment to pay off. 
At Misty Mountain Cabinetry, we want to do our best to give you bang for your buck. We make quality, Amish-crafted cabinets that look great and serve long-term.  
And what exactly sets Amish-crafted cabinets apart? 
This article will explain some of the advantages of investing in Amish-made kitchen cabinets. 
Ready to go? 
Let's dive right in!
To understand the Amish and their woodworking crafts, we need to go back in time and look at the Amish as a people. 
Let's take a look. 
Where did the Amish come from? 
In 1693, Jakob Amman and a group of followers split off from the Mennonite church and formed their own religious sect. That was the beginning of the Amish culture.  
Jakob Amman and his followers wanted to live a simple, self-sufficient lifestyle free from worldly influences. Their simple lifestyle allowed them to maintain their traditions and follow God with fewer distractions. 
The Mennonites believed the same things as the Amish but applied them somewhat differently, which was what led to the split of 1693. 
In the early 1700s, the Amish began migrating to America to escape religious persecution. They mainly settled in Pennsylvania, Ohio, and Indiana. These states remain the center of Amish communities today. 
Amish beliefs and practices 
The Amish believe deeply in simplicity and self-sufficiency. These beliefs affect their entire lives. 
Amish beliefs come out in their rural lifestyle, plain dress, and rejection of technology. Instead of using modern conveniences like cars and electricity, they lead off-grid farming lifestyles and rely on their own handicraft for their needs. 
The Amish also highly value community and tradition. They value these things over education, and for that reason they usually only educate their children through 8th grade. After that, young people begin working in the community and learning a trade. 
The most unique aspect of Amish beliefs is how they truly apply them to the way they live. The Amish do their best to live out what they think is right, allowing their belief system to permeate their entire lives. 
Whether or not you agree with the Amish belief system, you have to respect their commitment. Nobody gets everything right – but the Amish do their best to live what they believe, and that kind of commitment and sincerity is admirable. 
Legacy of working with their hands 
The Amish have a long legacy of working with their hands. They are good craftsmen for two main reasons: 
Their lifestyle requires them to work with their hands, so they get lots of practice.  
They emphasize work over education, so they start learning a trade at a young age. Because their adolescents start working so young, they get lots of experience.  
Historically, the Amish lifestyle forced them to rely on their handiwork for food, clothes, furniture, and other commodities, so they got very good at working with their hands. They have passed these skills down from generation to generation for centuries, and they are still highly skilled today.
What are the advantages of Hiring an Amish Cabinet Maker?
Now we know who the Amish are and why they are expert craftsmen. Now the question is: 
Why should you buy Amish-made cabinets for your kitchen, bathroom, or other project? 
Let's find out by looking at some of the advantages of Amish woodworking. 
The Amish have a long history of working with their hands. Even though not all Amish kitchen cabinets are completely handcrafted, they still carry this legacy into the way they make and install their cabinets. 
Also, the Amish build their products to last. They emphasize longevity and everyday use and craft their cabinets accordingly. Amish-made cabinets will be made able to stand up to whatever comes their way! 
Wide range of styles available

 
If you are going to dish out the money for new kitchen cabinets, you want to be sure they are exactly how you want them. 
But sometimes, it's hard to find just the right look. 
One of the best things about Amish-made cabinets is that they come in a wide variety of styles. And beyond that, they are usually completely customizable. You can specify exactly how you want them, so they fit your individual style and tastes.  
Then you can finally love your kitchen!  
If you are getting ready for new kitchen cabinets, we have another blog article that may be helpful. Check it out here: Ready for New Kitchen Cabinets? Read This First! 
Custom configurations available 
Custom cabinets are more expensive than stock or semi-custom cabinets. But maybe your kitchen has an irregular layout, or you have a specific look in mind. These cases require custom cabinets. 
Thankfully, there's good news! 
As well as coming in lots of different styles, Amish-made cabinets can come made to order to fit whatever layout you have in mind. 
BONUS: Here is an article on the three different types of kitchen cabinets, along with some tips for maximizing your cabinet space. 
The Amish have always lived green. They make their products responsibly and sustainably. Here are a few reasons why Amish craft is sustainable: 
The Amish harvest their wood responsibly and sustainably. 
Amish products are hand-made, not manufactured in large factories that use lots of energy. 
Amish products are long-lasting and don't need replacing every several years. 
The Amish don't usually use lots of chemicals – so you don't have to worry about exposing your family to those chemicals! 
Every small choice to live green counts! If you are committed to preserving the earth for your children, even your choice of kitchen cabinets can be a step in the right direction. 
Supports small businesses 
Because the Amish value humility and simplicity, their businesses don't usually grow to astronomical sizes. Amish businesses tend to stay smaller and more locally oriented. 
Buying Amish-made cabinets means you are supporting small, local business growth. Plus, while not all Amish cabinet businesses operate the same, many Amish businesses get their materials locally, meaning their products are all-American made. 
New kitchen cabinets are a significant investment. Custom cabinets, especially, can be pricey. If you are going to invest money in new cabinets, you want to be sure they last and serve you well. 
This is where cabinets crafted by Amish really stand apart from the competition.
Amish-made cabinets are built for quality and longevity. In other words, they will still be around for your kids and grandchildren to enjoy That means Amish-made cabinets are a wise and practical investment that is bound to pay itself off over the long run. 
Here at Misty Mountain Cabinetry, we put a lot of work into our hand-crafted cabinets. We use ¾" plywood for the box frame (which is ¼ an inch thicker than the industry standard,) and we use only glue and screws for fastening, no staples which might slip out. 
We design for long-term stability and quality, so your investment will pay off. Our goal is that you could sell your kitchen for a good resale value in 10-15 years if you would like to replace it.
Installing a new kitchen means you will have carpenters working right in your home. You want to be able to trust that the workers will respect your home and family. 
Of course, Amish people vary just as much as others, but on the whole, you can expect an Amish crew to respect you and your home. 
You may even get to hear them singing in their own language as they work!  
And, of course, there is the aspect of plain, simple integrity. 
The Amish live out what they believe. You can see this by looking at their lifestyle and appearance. They allow their beliefs and values to permeate every aspect of their lives, from clothes to food to education. 
Their values affect the way they run their businesses too. As honest, hardworking, ethical people, they run their businesses with integrity. 
As a result, you can trust Amish businesses. 
Is Every Amish Business The Same?
We made a lot of blanket statements in this article. Is everything we said true of every Amish community and business? 
No, of course not. 
The Amish are a widespread and diverse people group. There is lots of variety within the sect. Beliefs and practices differ from community to community, and there are lots of different types of Amish. There is just as much diversity within the Amish as there is in the rest of the world. 
Amish businesses differ too. For example, not all Amish kitchen cabinets are 100% American-made. It depends on the business. 
At Misty Mountain Cabinetry, we try our hardest to serve you well. We put a lot of hard work and thought into the kitchens we build so your investment pays off. We want to do our best for you. 
What Else Do The Amish Make?
Do the Amish make things other than cabinets? 
You bet! They create various quality products you can buy at local markets or Amish stores. 
Here are some other wood products the Amish make and sell: 
Custom furniture

– Made to last from solid wood, Amish furniture has gained popularity in recent years and will never go out of style. 
Toys

– The Amish play hard as well as work hard! Amish-made wooden toys are a great buy. 
Sheds

– The Amish make great sheds and mini barns. 
Homes – There are lots of Amish framing and carpentry companies out there to build your new home. 
And a few non-wood products the Amish make and sell are: 
Food

– Baked goods, canned goods, honey, maple syrup, jams and jellies, smoked meats and cheeses…You can't beat home-grown goodness like this! 
Candles and soap

– Brighten up your home with an Amish-made candle or soap. These products would make great hostess gifts as well. 
Fresh produce – With a long history of gardening, the Amish sell quality fresh produce. Check for some in your local market.  
Fabric and yarn crafts, home decor, clothing, brooms, games, and more!  
Amish crafts, souvenirs, and gifts are known for their fine quality and craftsmanship. Even today, they hold on to the traditions and techniques passed down to them from former generations. 
Not all Amish or Amish businesses are the same. 
But the Amish have a long legacy of working with their hands. They have passed this legacy down from generation to generation for decades, and it is still alive today. 
At Misty Mountain Cabinetry, we keep this legacy alive in our quality Amish-made custom cabinets. 
We will do our best to make your kitchen, bathroom, or other cabinet project an investment that pays off. 
Plus, it's easy to work with us: 
Schedule an estimate 

Customize your kitchen

Sit back while we install 
Then enjoy your new kitchen for years to come! 
Besides kitchens, we can also help you design and install bathroom cabinets, custom cabinets for another part of your home, or some custom woodworking such as crown molding or a solid wood countertop. 
Give us a call and start your project today! 
We look forward to hearing from you.