Three Common Cabinet Styles
Have you ever wasted two minutes and your good mood digging through your spice cabinet to find that one elusive spice? 
Or have you clattered around in your pots and pans cabinet trying to free a saucepan from the back corner, where it was stuck under five other pans? 
We get it! There is nothing more frustrating than disorganized, overstocked kitchen cabinets. It takes all the fun out of food prep! 
At Misty Mountain Cabinetry, we understand that you want to love your kitchen. We find that good cabinet design goes a long way towards accomplishing that goal!  
We put together this article explaining the 3 main types of kitchen cabinets and what it is possible to do with them.  
Ready to learn how you can use them to make your kitchen a nicer space?  
Let's dive in!
3 Types Of Kitchen Cabinets
Your kitchen is the most important room in your home.
Why? 
Because you spend so much time there. It's where families cook, eat, gather, and socialize. 
If you spend that much time in a room, you want to make sure it's pleasant and organized! 
There are 3 main types of kitchen cabinets: 
Base cabinets

Wall Cabinets

Tall cabinets 
Let's look at these 3 types of kitchen cabinets and how you can use them to make your space more orderly. 
The first type of cabinets we will look at is base cabinets. 
Base cabinets are the ones that go around the bottom of the kitchen and provide support for countertops and sinks. They are the workhorse cabinets of the kitchen, providing the bulk of the main storage.   
They often hold items such as pots and pans, cleaning supplies, or trash cans, and it's common to find pull-out shelves in them for easy access. 
Want to know what's possible for your base cabinets? 
Here are some common types of base cabinets for your kitchen. 
Since base cabinets are on the floor level, sometimes people incorporate big drawers into them.  Essentially the drawers are like big pull-out shelves and could store anything from pots and pans to cooking ingredients to trash cans. 
Big or small drawers provide convenient access to items without your having to get down on your hands and knees to reach into the far corners of a cabinet. 
After all, who wants to kill their back trying to dig out the mixing bowl? 
Pull-out shelves are another great way to save your back! 
They allow you to easily access all items in a cabinet, even the ones in the far corner. Pull out shelves also maximize space by allowing you to store more in one cabinet without stacking everything on top of each other. 
We get it. You want easy access to your trash can at all times. But you don't want it sitting out where it might be an eyesore! 
A built-in caddy to hold your trash and recycling cans is the perfect solution! Just pull it out when you need it and close the door when you want to hide it from view. 
Maybe you have some cool dishes you would like to display or cookbooks you would like to easily access. 
If so, you could incorporate some open base cabinets without doors to display your decor or dishes. Open base cabinets can add some interest and a nice touch to a kitchen. 
Just be aware that now your serving pieces are within easy reach of toddlers and pets!  
Easy access cabinets come with a shelf in the middle and a rack on the door, so you can have easy access to essential items. They are a great place for items like spices or sauces you often use for cooking.  
Corner cabinets/Lazy susans
One of the worst spots to try and reach in a kitchen is the very back corner of the corner cabinet. 
You can't see anything back there, and you have to twist your arm way back in trying to find your bowl or can of food. Reaching items in that spot is like trying to find something down a prairie dog hole!  
Thankfully, there are solutions to this problem. 
You could install twist-out shelves like these to maximize your space, or you could install a traditional rotating lazy susan. These solutions transform wasted space into valuable storage space! 
And lazy susans aren't just for corner cabinets, either. You could install one in a smaller cabinet for spices or dishes as well.  
Kitchen islands are becoming increasingly popular for casual dining, food prep, and maybe an extra sink. Islands also help center larger kitchens and provide a place for people to gather in the middle of the kitchen.  
It pays to install cabinets in your island to give you extra storage space as well! This way, you can keep cookware and pantry items close at hand while you are cooking.
If you have large windows in your kitchen, you could double up and install a window seat with storage space underneath. 
Not only does this give you more storage space, it also provides a place for people to sit and chat with you while you prepare food! After all, it's no fun to have guests over and then get stuck alone in the kitchen all night. 
This might be a good place to put little-used items because these cabinets may not be as easy to access as others. 
If you have a tight kitchen and want to maximize all the space you have, add toe-kick drawers under your base cabinets. These thin drawers are the perfect place for pots and pans, cookie sheets, or linens.
Lots of people keep their cleaning supplies under their sink. But for many, this cabinet soon turns into a real mess! 
If you want to keep your under-sink space organized, consider adding a solution like these pull-out drawers. 
On to the next type of cabinets! Wall cabinets. 
Wall cabinets are mounted on the wall and provide overhead storage. They are the perfect place to keep lighter items like spices or serving dishes as they cannot support as much weight as base cabinets.  
Wall cabinets offer a diverse range of looks and sizes and add style to your kitchen as well as function. With endless options for size, shape, and cabinet doors, you can make your wall cabinets match whatever style you like!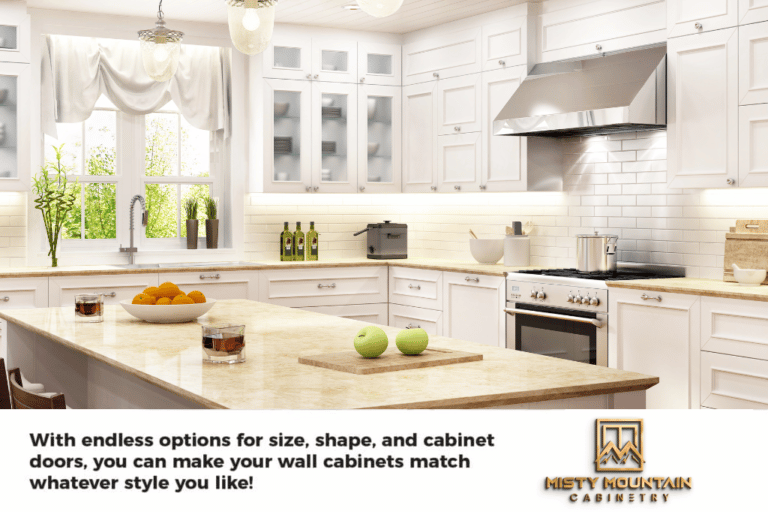 If you would like to know more about selecting kitchen cabinets, read our blog on new kitchen cabinets. 
Let's look at some popular types of wall cabinets that are functional and convenient. 
With built-in racks on the doors, these cabinets let you easily reach essential items like spices and mixers. 
They are ideal for storing both large and small items – large items inside the cabinet and small items on the rack behind the door. 
Lazy susans aren't just for base cabinets! 
A lazy susan could be an excellent solution for an up-high corner cabinet as well as a base corner cabinet. The corners at the top are just as hard to reach as the corners at the bottom! 
Lazy susans are a great way to maximize those corners and turn them into hardworking spaces. 
Do you ever get tired of your coffee pot and toaster sitting on your counter and getting in the way? 
There is a solution! 
Create an appliance garage like this one. This way, your appliances are out of sight and out of the way, but they are still within reach. 
It's a stylish and easy way to clean up your counter space. 
Another style that has become more popular in recent years is open wall cabinets without doors. This way, you can display your beautiful dishes and other kitchen decor. You can also have super easy access to essential items. 
Since wall cabinets are mounted on the wall, you won't have to worry about children or pets! 
Another option is to do glass-front cabinets. Glass front cabinets are more classic and elegant than open cabinets, and give a different feel to the kitchen. 
They are a different way to display decor or create a classy vibe. 
If you cook, you have probably experienced the struggle of ransacking your spice cupboard for that elusive spice that you can never find. 
Is there anything more annoying? 
A pull-down spice rack makes it easy to find all your spices! Your spice cupboard might even stay organized for once. 
Another option you could try is a mini lazy susan in your spice cupboard so you can easily look through all your spices. 
Wall cabinets aren't just for the kitchen. They could be very handy in your bathroom, laundry room, or mudroom as well. You could even put some in your basement for more storage options.  
The last type of kitchen cabinet is the 'pantry' or 'tall' cabinet.  
As their name suggests, tall cabinets are the tallest and biggest type of cabinet that provides the most storage space. They can go all the way from floor to ceiling! 
Due to their size, tall cabinets are often used to store large, unwieldy items such as mops, brooms, and bulk food supplies.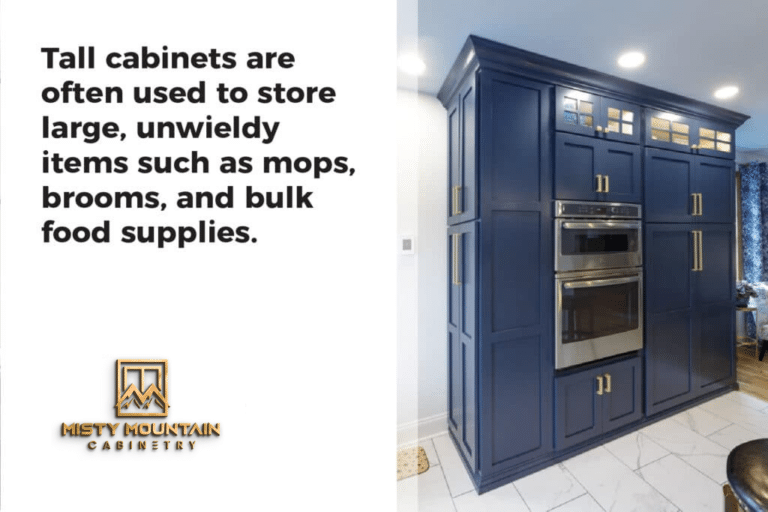 Let's find out what you could do with a tall cabinet! 
A utility cabinet could come equipped with drawers, shelves, hooks, and anything else convenient. This is the place to store cleaning supplies, jackets and shoes, lunchboxes, or uncategorized items. It's the catch-all cabinet! 
You might also use a large utility cabinet for mops, brooms, umbrellas, or other unwieldy items. 
Oven and microwave cabinets are types of tall cabinets made to house built-in ovens or microwaves. 
It could be handy to have your oven built into your wall because you could make it any height you wanted. No more bending over to put food in the oven! 
Roll-out tall shelves are basically very tall, vertical drawers with narrow shelves. The shelves have racks on the sides to keep things from sliding off. 
Roll-out shelves are the perfect way to store lots of essentials while keeping them all within easy sight and reach.  
Due to their shape, roll-out tall shelves are the perfect cabinet for storing drinks or other tall items. Besides that, they are an excellent place for any staple item! They could work great for storing large containers of flour, sugar, and other baking essentials. 
Pantry cabinets outfitted with pull-out shelves are the ultimate king of food organization and storage! They are the perfect way to keep everything orderly and within convenient reach at all times. 
For even more options, install wire racks on the door of your large pantry cabinet. 
If you want to add some drama and majesty to your kitchen, a tall cabinet is perfect! With their height and size, they are just the thing to inspire some awe. 
A tall cabinet with a glass front would make a great display cabinet for china, and some crown molding at the top makes the whole kitchen seem classier. 
Tall cabinets are perfect for other spaces as well as kitchens. A tall cabinet could be a great addition to your mudroom to store jackets, shoes, umbrellas, purses, and keys. It could also help keep cold-weather clothing organized in winter. 
Or, a tall cabinet could help keep your laundry room organized and frame your washer and dryer. It's the perfect place to keep cleaning supplies! 
Your kitchen is the most important room in your home. 
It's not just a place to cook – it's the place where your family and friends gather for time together and socialization. It's a place of bonding and fellowship. 
We understand that your kitchen is important – and that you want to love your kitchen! 
If you are unhappy with your current kitchen, give us a call here at Misty Mountain Cabinetry.
We offer various services, from complete kitchen remodels to new kitchen and bathroom cabinets to Amish woodworking. 
We make it easy to work with us: 
Schedule an estimate

Customize your kitchen

Sit back and let us install your new kitchen! 
Be sure to order cabinets that are functional, practical, and suit your needs and style. 
Don't keep living with a kitchen you don't love – Contact us today! 
We look forward to hearing from you.